Who we are:

Ewyas Harold Baptist Church (EHBC) is a fellowship of Christian believers who, through the worship of Jesus Christ and the activities of the church, believe in serving Christ and meeting needs. Click HERE to see highlights of our current church life.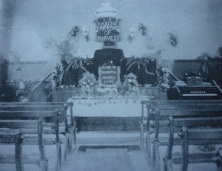 The first recorded preaching in this area by a Baptist was in 1862 in the home of Mr James Powell, Lion Row, Ewyas Harold and in that same year Ebenezer Baptist Church, Ewyas Harold, was formed by the Revd. Edmund Edwards (also known as 'Bombay Edwards' of Zoar Chapel, Pandy).
In 1864 land was purchased from Thomas Pugh, Bridge Farm for £30 and a Baptist Chapel was built and opened for public worship on 15th June 1865. In 1881, it is recorded that 6 persons from the chapel were baptised by Monmouth Cap Bridge in the presence of about 500 people.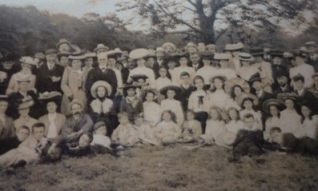 In 1889 the church purchased the first harmonium organ and in 1906 a baptistery was installed in the church. In 1908 the organ was replaced with a larger pipe organ purchased by a loan borrowed from members. In 1912 it was recorded that the minister at that time (Revd. Isaac Lloyd) preached 3 services every Sunday and in 1913 it is recorded that a policeman was paid 5 shillings for attendance at a concert in the Church room. Could this mean he was needed to keep Baptists in order?. In 1928 the church bought The Manse for £600 and in 1949 electricity was installed in the chapel. In 1962 Professor Emiritus John Evans B.A. preached at the chapel's 100th Anniversary Service, himself also being 100 years old!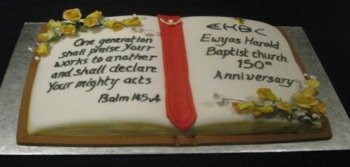 In 2003 a new hall was built at the back of the church and is a wonderful addition of space for church events and clubs. Having recently celebrated our 150th anniversary, EHBC strives to continue it's work in Ewyas Harold and the surrounding areas.
Ewyas Harold Baptist Church aims to follow the teachings of Christ and worship in ways which are both contemporary yet respectful of tradition. We are a welcoming church and hope to provide a spiritual home full of love, faith and hope to all.
We have strong links in the local community, other churches in the area and BMS World Mission. We are a small friendly church that aims to apply the teachings of Jesus inwardly and share His teachings outwardly. We have activities that would interest all ages, these include: various youth groups, house groups, discussion groups and services at a local residential home. There are regular Sunday Services in the Chapel and various community events held during the year.